"Who is Laci the woman and why should I call her?"
Simple. I am you. A busy homeowner, business owner, mother and family CEO.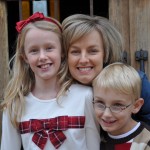 I have two children and a husband who is in Residential and Commercial Construction. The latter basically means that every home we've lived in lately has been up for sale, so we move a LOT. As in four houses in four years!
You know how long it takes to get unpacked after a move? Think about the scene early in The Incredibles when the mom calls her husband at work to announce that she has finally unpacked the last box – in a house they've obviously been in for a while! Now imagine that multiplied by all my recent moves and you will quickly see the problem. Combine the frequent moves with a home-based business and the need to keep our house show-ready on a moment's notice and what do you get? A woman who has to become organized or go completely insane!
Taking Back Control
So I did. After all the clutter and chaos of recent years, I genuinely look around and ask myself WHY I waited so long. Now that I know what life is like with a bit of organization, well, I could never go back. I am much less stressed and that makes me a better, happier mom and family manager.
Once I got myself together, I started looking at the lives around me; friends who were perpetually late because they were too disorganized to get out of the house in time or who will return that item they borrowed as soon as they find it, and I just knew I could help.
In 2007 I started my organizing business, SimplifyMe!, to help others take back control of their homes and their lives. Having "been there" and "done that" are not my only credentials. Aside from being an ex-clutter queen, I am a proud member of the following organizations:
Member of First Baptist in Boerne
Hill Country Women in Business
Want more?
I hold a degree in Communications from Texas Tech University and: I've spent 5+ years in advertising.  My professional career consisted of multi-family sales, marketing and management as well as new construction consultanting.  I have also been a realtor since 1995.
Why should you call me?
Simple: Your mess is safe with me – I won't judge you by your clutter!
I want to take the overwhelm out of organizing and make it fun.
The skills I teach are more than a temporary adjustment – they're a way of life.
My goal is to inspire others to simplify their lives, and to help them along the road to clutter-free living!